[yellow tail] Wine Promotional Tour With Branded Campervan
Branded campervan for drinks promo tour
BBC Good Food Show at Birmingham NEC
Our transporter services enable us to tour nationally
We have an operator's license for logistics
We are licensed for alcohol sampling & sales
Roaming sampling, and handling sales
Touring national outdoor festivals
Prepared for all weather conditions!
Hosted staff training
For product knowledge
Campervan photobooth with branded instant prints
Complemented the stand and created digital media
Stock and cash management
Complete with full sales and stock reporting
Working in a mixed team alongside the client
Staff trained to comply with local licensing rules
Number of miles travelled
Branded Campervan Promotional Tour
National tour in a fully branded campervan, sampling and selling wine for [yellow tail] (The number 5 wine brand in the world). This was [yellow tail]'s largest ever consumer experiential campaign in 2017 and included indoor exhibitions like the BBC Good Food Show and outdoor concert series such as the Great British Proms.
We provided the branded campervan promotional tour, logistics, staff, training, H&S documentation, reporting, cash handling and stock management.
Laminate wrapped VW Camper
We supply template for branded camper
We use client's artwork
Sample prints signed off
We fully laminate wrap the camper
Included branding on front wheel
National transporter service
We are licensed for transporter services
We toured across England and Scotland
Route planning and tracking service included
We managed travel and accommodation for staff
Health and Safety Compliance
H&S documentation review (We are backed by our Peninsular consultants)
All risk assessments, method statements, insurance and certification supplied
Staff H&S briefings designed and delivered with traceable paperwork
Cash Handling, Stock & Sales Reporting
Staff trained to handle cash and card transactions
Stock and cash daily reports generated
Stock management (ordering and logistics input)
Cash paid into client account with paperwork
Event review and feedback provided
Event Manager and Team Lead staff provided
Brand Ambassadors provided
Staff training hosted and co-written / delivered with client
Staff briefing documentation developed and communicated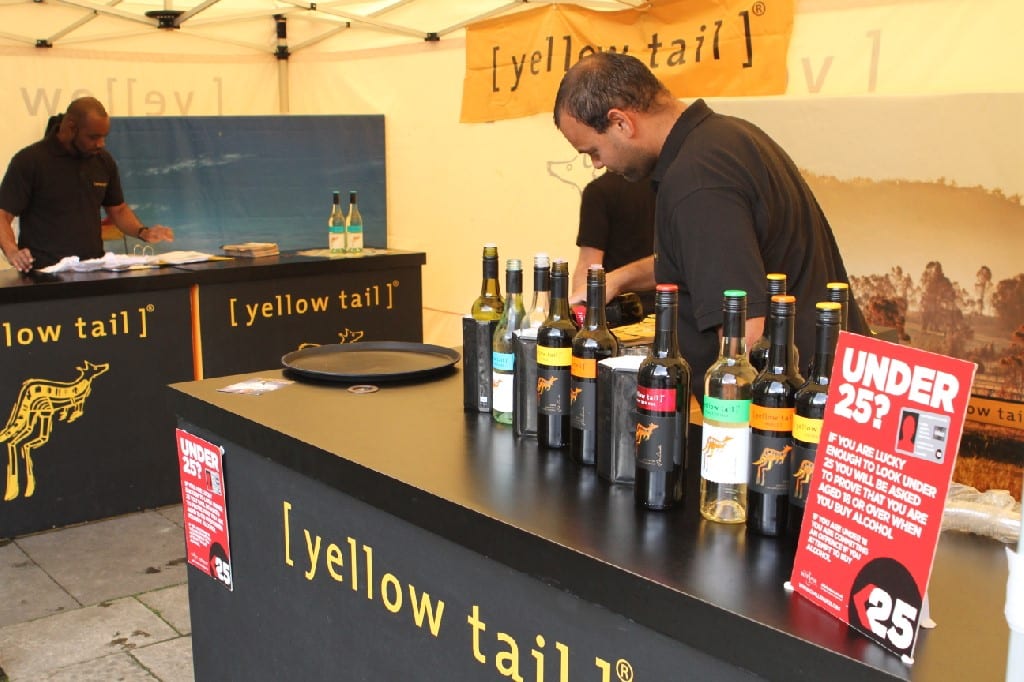 Licensed for alcohol sampling & sales
Staff training and courses booked to secure alcohol licenses
Additional training supplied to staff working at events in Scotland to comply with local legislation
Strict adherence with The Portman Group code of practice
Alcohol roaming and sales activities aligned with event guidelines
Campervan photobooth
The campervan photobooth came with themed props, instant branded prints and all digital images available to post on social media pages.
Enabled digital presence
Circulating branded photos
Attracted additional footfall with offer of free photo prints
Opportunity to further engage with public and make wine sales
Provided a KPI metric
Stand out from other promotional stands
Branded Campervan Promotional Tour Events
BBC Good Food Show & Feast Series
Edinburgh Fringe Festival
Great British Proms Series
Battle Proms Series
Classic Ibiza Series
Folk by the Oak
From the moment I approached Nathalie I knew that she would be able to bring the [yellow tail] experiential campaign to life.  She was a true partner this year in every sense of the word.  From the branding of her beautiful Camper Van, to ensuring the Photo Booth reflected the brand, to providing the highest quality and properly trained staff, to pitching in and helping to sort the inevitable obstacles as they arose.  The whole Buttercup Bus team have gone above and beyond to ensure that this year's campaign ran like clockwork and was a huge success – and the statistics speak for themselves!  Thanks so much, Nathalie, I could not have achieved the end result for my client without your 'no stone left unturned' and highly professional approach.
Some of our other case studies that may interest you…