Branded campervan popup bar hire for a promotional tour with Greene King Brewery
We provided a branded campervan popup bar hire service with a full laminate wrap (complete with serving hatch and beer dispense system) and provided staff and logistics to take part in a promotional tour for Greene King East Coast IPA
Alcoholic drinks sector marketing and promotions
A fully managed service by Buttercup Bus Vintage Campers: 
Fully branded campervan bar
Draft system to serve cold beer
Alcohol licensed staff
All logistics / transport
Risk assessment documentation
Fully insured and licensed
Worked across a series of music festivals, supermarket sampling and sporting events
Serving beer from the campervan bar
Having worked 2018 and 2019 for this client, our branded campervan bar services were a huge hit, travelling the length and breadth of the country, to attend a diverse range of events.
We worked at drinks industry award ceremonies, series of music festivals, pub open days and community festivals – and lets not forget sporting fixtures to include the Cricket and Rugby!
The team were only too pleased to work at a Take That concert too!
Fully vinyl wrapped, branded campervan popup bar hire
We applied a full vinyl wrap on the campervan for this project – including imagery on the outer and inner roof for maximum impact.
We provided our tried and tested artwork template and consulted on the design's compatibility with the campervan. We then produced and applied the graphics for our branded campervan bar hire service.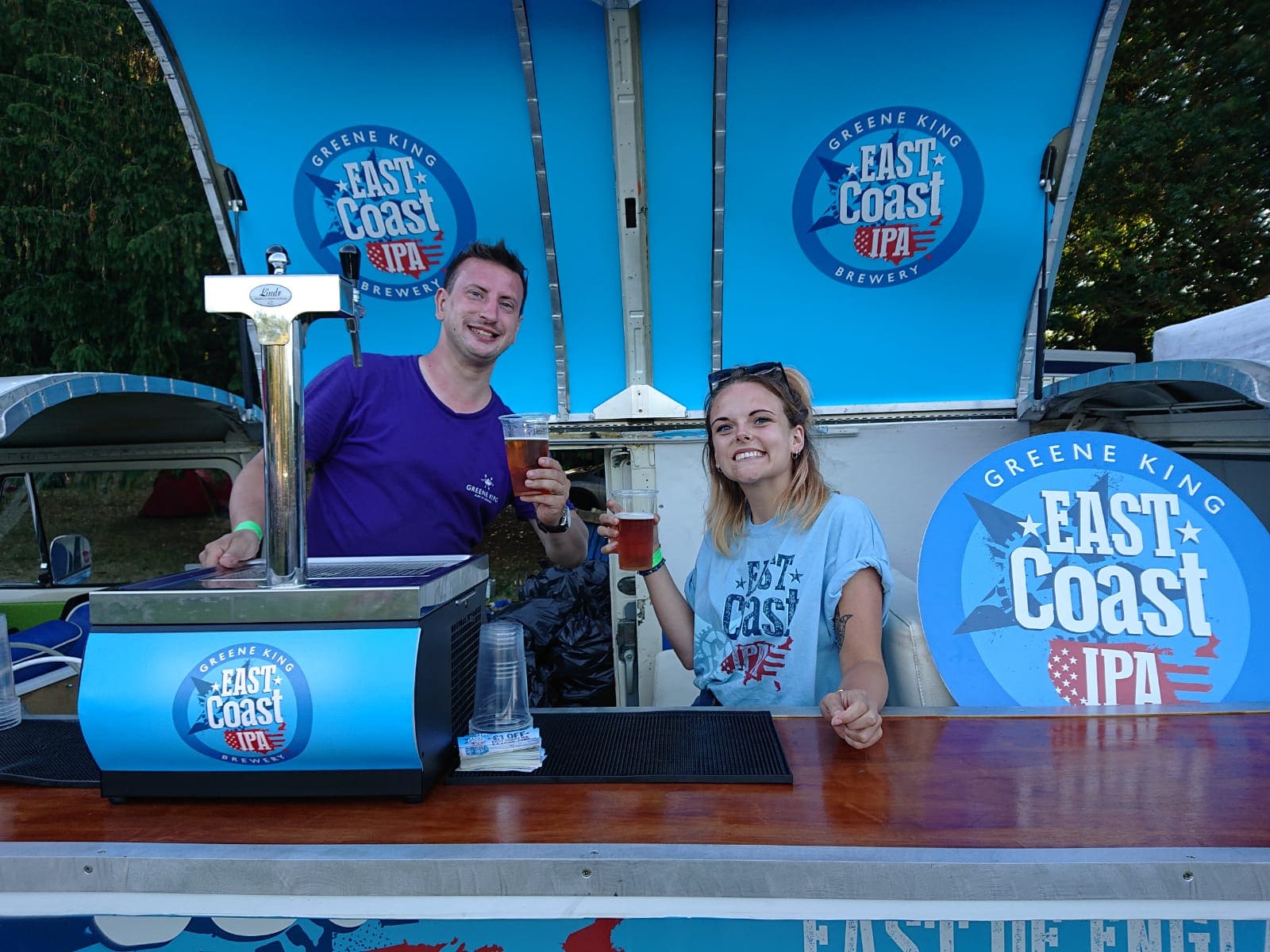 Licensed staff provision
We provided trained and alcohol licensed staff to work both alongside the client team, and work independantly. They were responsible for setting up the bar, operating within the risk assessment and H&S guidelines, and cleaning down and closing the bar afterwards. Responsibilities also included cash handling and managing sampling and sales, plus talking about the product to customers and feeding back to the office at the end of the day.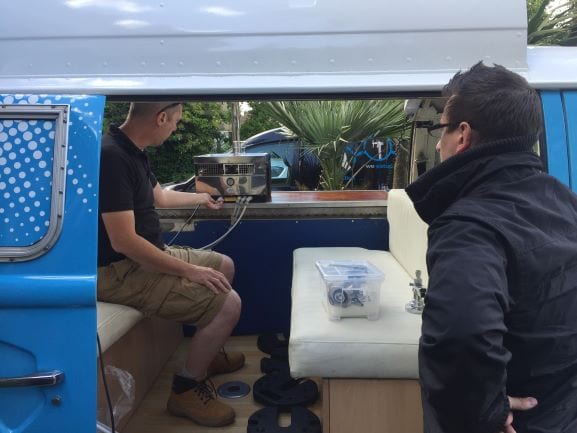 Beer system installation
We installed a two tap, draft beer system that would connect to the client's kegs. The system was designed to chill the beer instantly on arrival, saving time for set up. The beer chilled perfectly in the 2018 summer – the joint hottest on record in the UK, with daytime temperatures consitantly above 30 degrees, which resulted in high demand for beer sales. We trained our staff on the beer system's function and branded the system to represent the IPA being served.
Risk assessments
We produced all the licensing, insurance and risk assessment paperwork required, including any specifics for each event.
We made sure that our team were trained accordingly, and came equipped with everything required, to include high vis. jackets, first aid kits, fire extinguishers and posters on manual handling and emergency procedures, mains power cabling etc.
All events were supported with traceable paperwork. Furthermore, our head office supported each tour, providing real time updates on vehicle location, expected times of arrival etc.
Portman Group Compliant Sampling
Where making sales and sampling, we unsured that the team were compliant with the Portman Group guidelines. This included adherance to the specifics around sampling outside supermarkets.
Our team handed out coupons and engaged with the public to raise awareness of the IPA being sampled. We made sure that we managed our cups, trays and jugs in stock, and purchased ice when sampling from cans.
Transportation and logistics
For long distance travel, we managed logistics, including transportation for the branded campervan bar hire and travel and accomodation arrangements for staff.
This included facilitation around access constraints and security regulations for each event, and regional secure storage of the vehicle throughout the tour. Where working at a multi-day event, where neccesary, we arranged for staff to remain with the campervan overnight.
"The best agency I have worked with!"
Gemma Woolnough
Brand Manager, Greene King
Some other case studies that may interest you