Branded Campervan Retail Popup Store Sun Glass Hut
We provided a vinyl wrapped, branded campervan as a popup retail store, selling luxury, designer sunglasses for Luxottica brand, Sun Glass Hut. The promotional events took place across three locations in London – Camden, Battersea and the O2 Centre.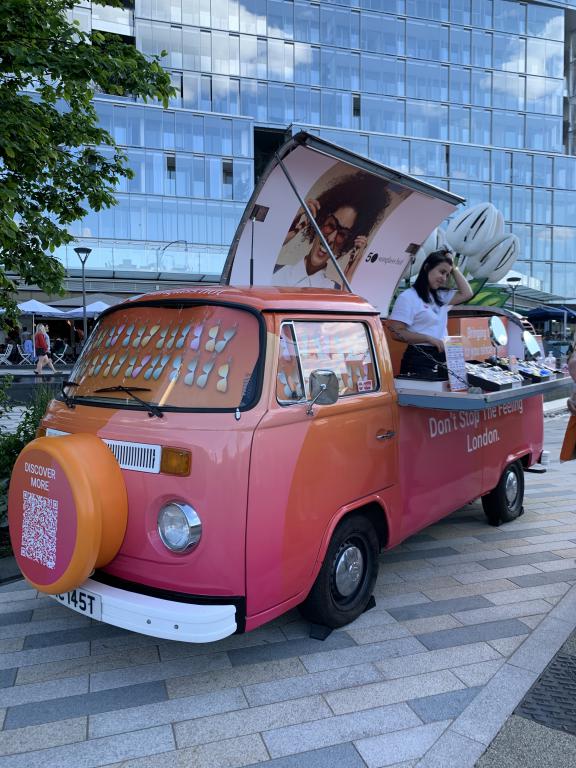 We provided a vinyl wrapped, branded VW Camper popup store with driver.
Classic, 1970s VW campervan with full vinyl wrap, using our templates to apply the client artwork.
Campervan had a custom built, branded interior (elevating roof, cupbooards, flooring, counter top and windows)
Our driver delivered and collected the campervan from each of the popup stire sites across London. With the O2, as we defuelled for H&S, we transported the campervan on location. Pushing it into position at the venue.
We stored client stock in our secure industrial unit throughout the tour.
Risk assessment documentation and associated kit to enable complaint access across a range of indoor and outdoor venues (From shopping malls to pedestrianised highstreets – all high profile London locations)
Fully insured.
Vinyl wrapped  Campervan popup shop for Sun Glass Hut
We worked with Luxottica directly, to provide branded campervan hire at 3 high profile locations across London over a 2 month period.
We were promoting Sun Glasses Hut at a variety of venues, to include indoor shopping malls such as the O2 Centre, and pedestrianised highstreets (Camden and Battersea Power Station).
We provided the external bodywork vinyl wrap branding service.
Our driver team ensured that we were set up in line with H&S requirements at each site, supported with traceable paperwork. In particular, at the O2, we certified the campervan as defuelled, and managed the logistics to deliver and collect it.
Luxottica's own staff sold the luxury sunglasses from the popup shop.
How did we help?
We applied a full vinyl wrap on the campervan for this project – the client provided the artwork using our tried and tested, scaleable templates.
Branded classic VW campervan with full vinyl wrap
We provided a vinyl wrapped, classic VW Campervan, designed with artwork provided by Luxottica.
This included a branded fornt wheel qith QR code on it, and themed foamex boards to place in the windows, once parked.
Storage and carriage of high value luxury sunglasses stock in the campervan
During the tour, we stored stock at our secure South London premises, and transported kit in the campervan to each of the London locations.
Transportation and logistics with branded classic campervan hire
At Camden and Battersea Power Station, we delivered and collected the campervan each day, with our driver service.
At the O2 centre, the camepervan popup shop needed to be certified a defuelled and vented before it could access the venue. We ensured that all this was managed, with traceable paperwork – and then transported the defuelled camper to the venue, and pushed it into the final location.
Office support and H&S paperwork throughout tour
Our office provided 24 hour support for all matters relating to the campervan.
Strict H&S rules were adhered to throughout the tour – to include the fire extinguishers, PAT certified power adapters, drips trays – all capturd in our method statements, risk assessments etc. 
Our driver / team worked seamlessly with the client and their staff / suppliers to deliver a unified experience. 
Some other case studies that may interest you