Campervan photobooth Surrey London Kent
Campervan photobooth Surrey London Kent. Our award winning, selection of six pretty pastel coloured classic campervan photobooth hire options will add a unique and fun vibe to your event, be it a festival, tipi wedding, private party or corporate event.
Campervan photobooth Surrey London Kent – Pootling 40 miles from Croydon!
All campervan photobooth hire packages include props, instant prints and online gallery.
The Perfect Outdoor Campervan photobooth Surrey London Kent
VW Campervan photobooth packages and prices
Based on a three hour service, finishing no later than 10pm, located within 40 miles of Croydon. Campervan photobooth Surrey London Kent. (We may be able to quote a surcharge for slightly further away / later finish times on a  case by case basis).
Base package 3 hour service
Our base package
Styled classic VW Camper with photobooth inside and light up "Photos" sign on roof.
Friendly booth assistant
Basket packed with funky props
Ribbon streamer backdrop
Online password protected gallery
Two 6×2″ prints per booth session
Your event name and date on the instant prints for personalisation 
Customise your Campervan photobooth Surrey London Kent package
You can mix and match our optional extras with the "Base" package to make a truly bespoke service.
Campervan photobooth Surrey London. Kent
Guest book service £50
Customise your campervan photobooth package and add the wooden cover, guest book service set up with table, pens and glue sticks!
Popup glitter bar and artist in camper rear hatch 3hrs: £250
Our popup glitter bar service in the rear hatch of the campervan is a fabulous extra – with eco glitter, gems and all the decor!
USB Stick £35
Receive a wooden USB stick with a copy of all the full size digital images after the campervan photobooth event.
Instant prints for everyone £75
Bydefault, you get two strips per booth session. We can add a button to the screen to enable the campervan photobooth to print 6×2″ instant prints for everyone in the booth!
Personalise your instant prints £35
By default, we will personlise your instant prints with your name and date. If you have a logo to send us in PNG or JPEG format, we can add that too for this small admin charge.
Upgraded 6x4" large prints: £50
Larger 6×4″ instant prints available from the printer installed inside the campervan photobooth.
Additional hours: £75/hr
We can extend the campervan photobooth open time to fit around your plans!
Additional dormant hours: £55/hr
By default we arrive 60mins in advance to set up, and depart within 60 mins of booth close. Some events have bespoke requirements, where we may need to set up a little earlier, or close the booth in-between certain proceedings. This is all possible at an hourly rate.
Campervan photobooth features available
A basket brimming with props
The campervan photobooth includes a well stocked basket of funky props, which we regularly refresh –  including hats, glasses, wigs, flower crowns and masks.  We also offer digital props to add via the touch screen. If looking for specific themed props for your event, then get in touch and we will be happy to discuss!
The guestbook service creates a great memento
Our  wooden guestbooks  are custom made, in beautiful birch wood, engraved and filled with recycled, cream A4 paper. The  campervan photobooth guest book is bound with silver hoops and has our small logo on the back.   This is an optional extra. We set it up, next to the campervan along with glue and pens. Our campervan photobooth assistant actively  encourages guests to stick one copy of their images in the book with a personal message – a great keepsake to remember all the fun from the event!
Instant printed 6x2" strips
Our professional dye sublimation printers produce instant, 6×2″ print strips which are instantly dry and water resistant. These also have the online online gallery password at the bottom. The prints include customisation with your name / date on the design We are happy to discuss any bespoke requirements and can add you logo.
Original retro 1970s TV set up
 Our large touch screen photobooth, is housed in a beautiful, custom made 1970s TV box, which complements the style of the campervan perfectly, for a truly unique experience! The large screen is easy to see, and will display a live preview of you, before it counts down to automatically take your photos with the DSLR camera and studio flash for beautiful photos! 
Secure, online gallery
After the Campervan photobooth Surrey London Kent event, guests can access the images to download for free, via our secure, password protected online gallery. Passwords are displayed on the print outs. You will also get a password so that you can download the full collection. Guests may also purchase additional prints after the event via the gallery if desired.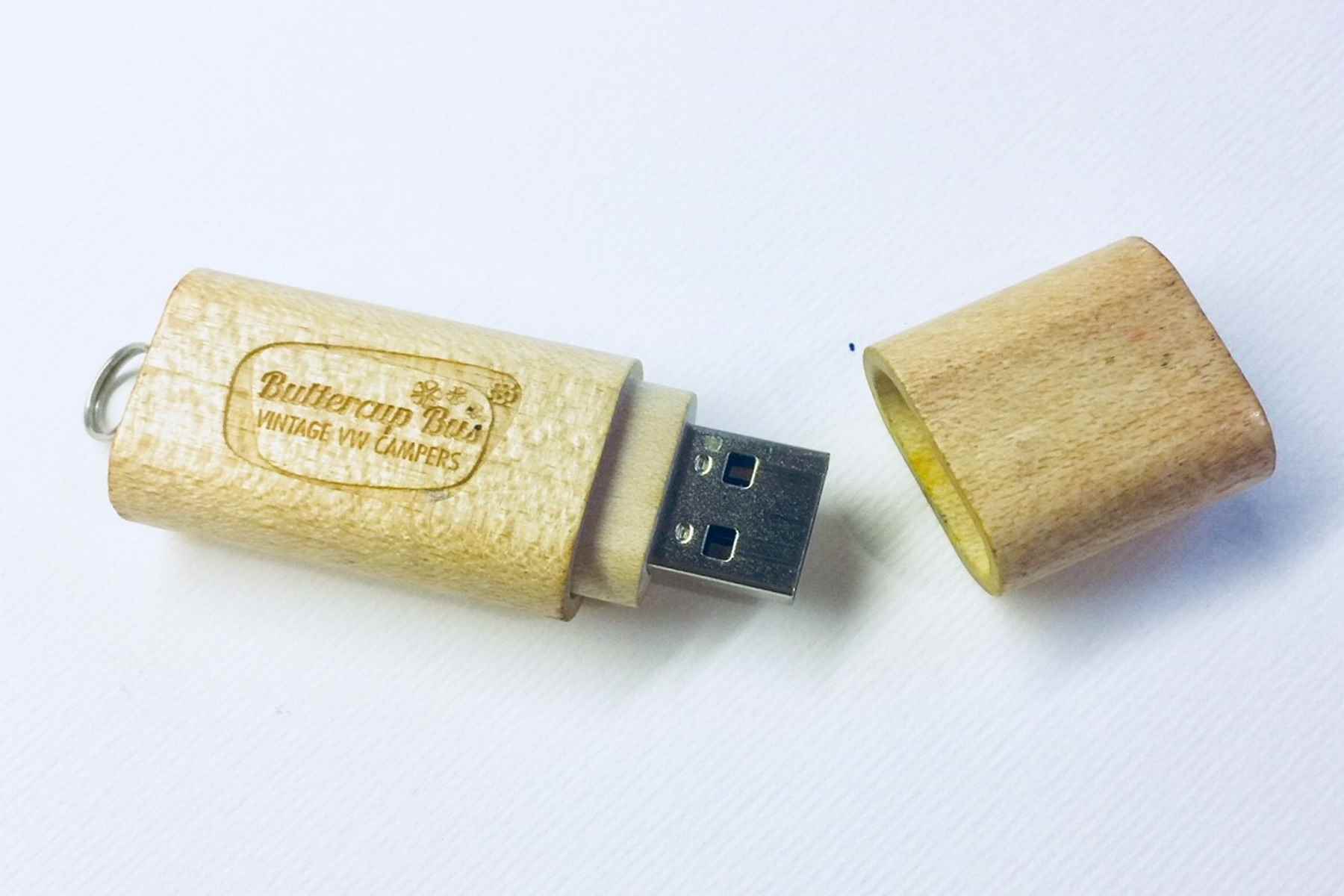 Our wooden USB sticks
Our pretty wooden USB sticks come with the complete set of full sized digital images from your event. For security, these are posted to you after the event by Royal Mail signed-for delivery. These can be selected optional extra.
Pretty ribbon streamer backdrops
The campervan photobooth packages come with one of our pretty ribbon streamer backdrops installed inside the VW camper, to add a beautiful, extra dynamic to your photos.
Fabulous Campervan photobooth Surrey London Kent fun: It's all in the little details!
DSLR Technology
We use Nikon DSLR cameras in our photobooths for high quality images
Generator power available
By default, we plug into a mains power socket within 10m of the campervan photobooth set up – but on request, can quote to bring our own generator to power the booth.
Decoration
The campervan photobooths are adorned with bunting and flowers, and have a large "Photos" sign lit up on the roof. The props come in a hamper basket. Layouts may vary pending location and weather conditions – but they will always look beautiful!
Studio flash setup
Our booths are lit with continuous lighting for live previews and professional studio flashes for beautiful photos
Wooden guest books
We have the option to include our custom made, wooden guestbooks with recycled pages inside. A perfect memento, with photos and persoalised written messages from your guests. 
Large touch screen
The campervan photobooth is set up inside the camper, and there is a large 22″ touch screen to operate the booth, complete with live preview and countdown between pictures. We can typically fit up to 5 people in the photobooth at one time.
Professional printers
We use the latest DNP dye sublimation printers for fast, professional printing on photographic paper
Friendly booth assistant
Our fully trained, friendly assistants will stay with the campervan photobooth throughout the event to ensure that everyone has a fantastic time.
Gazebos
Where wet weather is forecast, we have our own Health and Safety certified plain white 3m gazebos and cast iron weights to ensure that the campervan photobooth can be enjoyed in all weather. Please not that we do not pack the gazebo if dry weather is forecast.
Insured and certified
We are fully insured to operate our campervan photobooths at your event, and have:
£10m Public Liability Cover
Are PAT certified
Can provide risk assessments, method statements & health and safety policies
Business owner is DBS (formally CRB) checked staff
All our campervans are owned and managed by us – we do not sub-let work.
We are a Limited Company, registered trademarked and have over 10 years experience
Check out our popup glitter bars with VW Beetle and campervan theme – they come with selfie photobooth options that may also be of interest. A sparkly twist on the photobooth concept!
Click here to access your campervan photobooth pictures in our online gallery. Passwords are on your print outs!
Add a glitter bar to the back of your campervan photobooth for £215
You may want to add a a popup glitter bar to your campervan photobooth booking for extra sparkle! Comes with glitter artist, neon sign, deco, eco glitter and gems.
Discount available on any multi-packages
You may want to add a wedding car service, or perhaps a popup glitter bar to your campervan photobooth booking. Contact us for a tailored Campervan photobooth Surrey Sussex London Kent quote.
Scroll through our complementing campervan and beetle hire services
The glitter makeup popup bars with a campervan and beetle theme would go really well, along with our camper ice cream cart!
Branded campervan hire
Perfect for your promotional event
We offer a range of branded campervan services with either ful vinyl wraps or low tack vinyl decals. We also have a campervan that converts into a poptop bar with serving counter.
Classic campervan holidays
The perfect self-drive adventure
We have a choice of RHD 1970s classic VW Campers for you to self-drive for a camping holiday with added retro charm. Includes a gas hob and whistling kettle & kitchenware for the perfect picnics.
Campervan and beetle wedding transport
Choice of pretty pastel coloured wedding cars
Our wedding car services come with one of our fab drivers, flower garland decor and wooden "Just Married" sign. We have a collection of pretty, cream and pastel coloured campervans and a soft top  beetle to choose from.
Campervan Photobooth Hire
A photobooth inside a classic campervan
Offering a choice of classic campervan photobooths to hire in a range of pretty pastel colours – complete with instant prints, props, oilne gallery and decor. This photobooth will be talked about for months after your event!
Mini Camper Ice Cream Cart
Delicious gelato and sorbet served
With a choice of four flavours from over 100 options, our unique camper ice cream cart will provide a great talking point – complete with huge neon light, parasol and bunting.
Popup campervan glitter bar services
Popup campervan glitter bar services
Our new campervan popup glitter bar services – built on the theme of a campervan front fave – ideal for indoor or outdoor events – glitter makeup artist, decor and mirror photobooth with instant prints –  why not hire it in combination with the peepboard?
Indoor photobooth - wooden vintage photobooth
Check out our sister company with details
Check out our sister company, Vanilla Chinchilla Events, for our beatutiful wooden, indoor photobooth services, complete with instant prints, online gallery and some incredible backdrop options.
Glitter bug beetle glitter bar and photobooth
Popup glitter bar and photobooth in a VW Beetle
Our new VW beetle popup glitter bar and photobooth – Introducing "Glitter Bug" – complete with glitter artist, sparkles, eco glitter, props, photobooth and fabulous decor.
Campervan glitter bar boot hatch service
Upgrade your camper photobooth with this add-on
We can add a glitter bar service, operating from the rear of your campervan photobooth – where you can get "sparkled up" and then hop into the campervan photobooth for pictures!
Campervan peep board
Glitter popup bar or photobooth bolt-on service
Our specially made, wooden campervan peep board is the perfect bolt-on service to add to your campervan photobooth or perhaps our glitter bars. Set up on heavy duty cast iron stand – a fun addition!
(Not avaliable with the beetle glitter bar as won't fit in! Ha!)
Do get in touch, as we would love to hear more about your campervan photobooth plans, be it a wedding, festival, corporate hospitality, private party or community event!