Branded Campervan Popup Bar Serving Mocktails for Tessuti
We provided a classic campervan bar conversion, branded with vinyl decals, to promote the Tessuti retail store in Liverpool. Our team were making and giving out a selection of mocktails, whilst parked outside the store.
Ample branding opportunities with decals on the VW Camper bodywork and inner elevating roof.
Classic, 1970s VW campervan mobile bar conversion
Vinyl decal branding applied to the bodywork and elevating roof. (Roof acted as a natural bill-board!)
Our driver delivered and collected the campervan from a pedestrianised shopping preceinct in Liverpool.
Full H&S, documentation provided.
Bar staff provided along with cups and ingredients to make 4000 premium mocktails.
Fully insured.
Adding a little theatre to serving mocktails to the public
To capture the attention of passing shoppers, we mixed and poured cocktails, on full display in the branded campervan.
Fresh, premium ingredients were used, served on ice with mint and fruit. Over two days, we mixed and served 4000 cocktails.
The drinks were handed to the public, whilst photo opportunities were taken, and shoppers were encouraged to scan the QR code on the campervan to potentially win the opportunity to spend vouchers in the new Tessuti store.
The promotional event raised awareness of the new Tessuti store, attracted lots of attention, social media content and drove footfall into the adjacent store.
During the activation, a profesional photographer took images for Tessuti to use for promotional purposes.
During the event, our office kept in touch with the client event organisers, appraising them of the volume of drinks being distributed. 
How did we help?
We applied vinyl decals to the campervan bodywork, and inner and outer elevating roof.  The client provided the artwork using our tried and tested, scaleable templates.
Branded classic VW campervan with vinyl decals
We provided a classic VW Campervan bar conversion, complete with vinyl decal artwork, designed by Tessuti (using our templates), and produced and applied by us.
This included branded inner elevating roof, to display the mocktail menu and branded messages.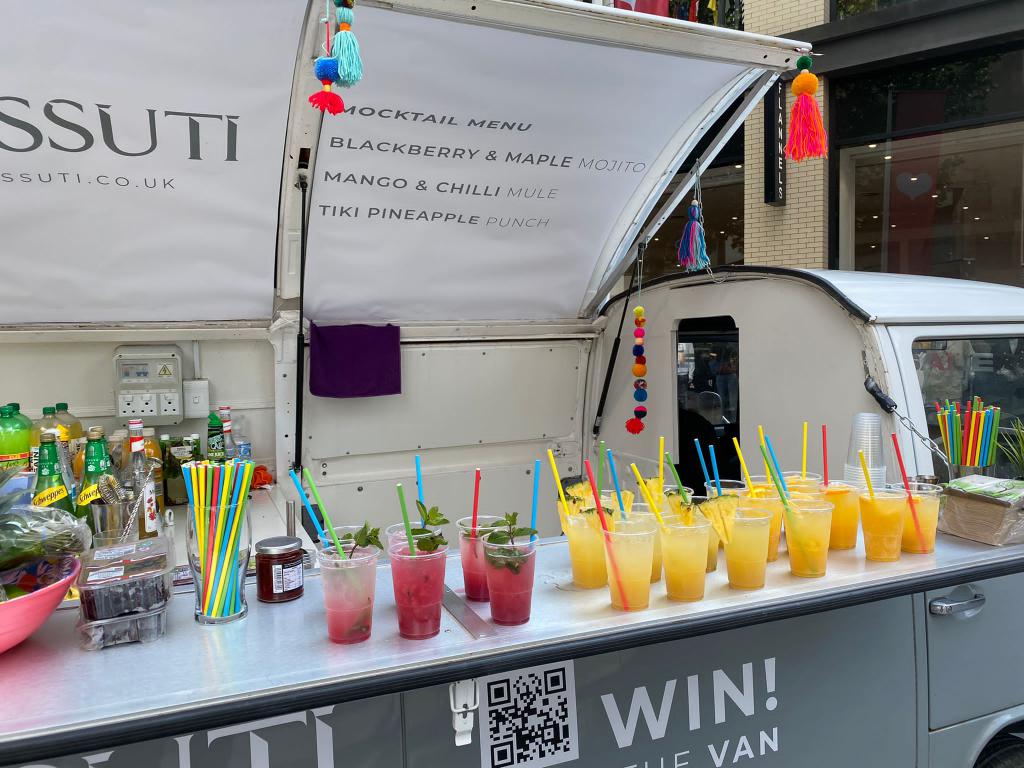 Provision of ingredients, cups and bar equipment
We provided a menu of four mocktails, using premium ingredients. Our service included the provision of our bar staff, all the ingredients, cups, ice and bar equipment to serve 4000 mocktails in two days.
Transportation and logistics with branded classic campervan bar hire
 At Liverpool One shopping precinct, we delivered and collected the campervan, with our driver and transporter service.
We worked with security to ensure that we accessed the site as per timing and route requirements, and set up in the precise spot allocated.
Office support and H&S paperwork throughout the event
Our office provided 24 hour support for all matters relating to the campervan.
Strict H&S rules were adhered to throughout the tour – to include the fire extinguishers, drips trays, high vis. jackets – all captured in our method statements, risk assessments etc.
Our driver / team worked seamlessly with the client and their staff / site security to deliver a unified experience.
View this post on Instagram
Some other case studies that may interest you