Branded campervan hire as an exhibition stand
Using low tack vinyl decals, our Branded VW Campervan hire for exhibition stand features at the #PFSfestival at Birmingham NEC
Working st a conference in Birmingham on an exhibition stand
Buttercup Bus VW Campers provided branded VW Campervan hire to Genesis Design for an exhibition stand at the Birmingham NEC centre. We used low tack vinyl decals (a high impact alternative to our full laminate wrapped campervan services) to brand the campervan with the #PFSfestival livery – The Personal Finance Society presenting "a festival of financial planning".
We worked with Genesis Design, providing them with our tried and tested campervan template for them to submit their artwork. We then consulted with them over the compatibility of the design with the contours of the campervan, until we had final artwork signoff.
We produced and applied the graphics – including detailed contour cutting around the artwork outline, a special, branded license plate (show plate) and window graphics.
Alongside this service, we provided the logistics, required risk assessments, method statements, and PL cover.
The Branded VW Campervan hire for exhibition stand provided a striking feature that complemented the festival theme of the event.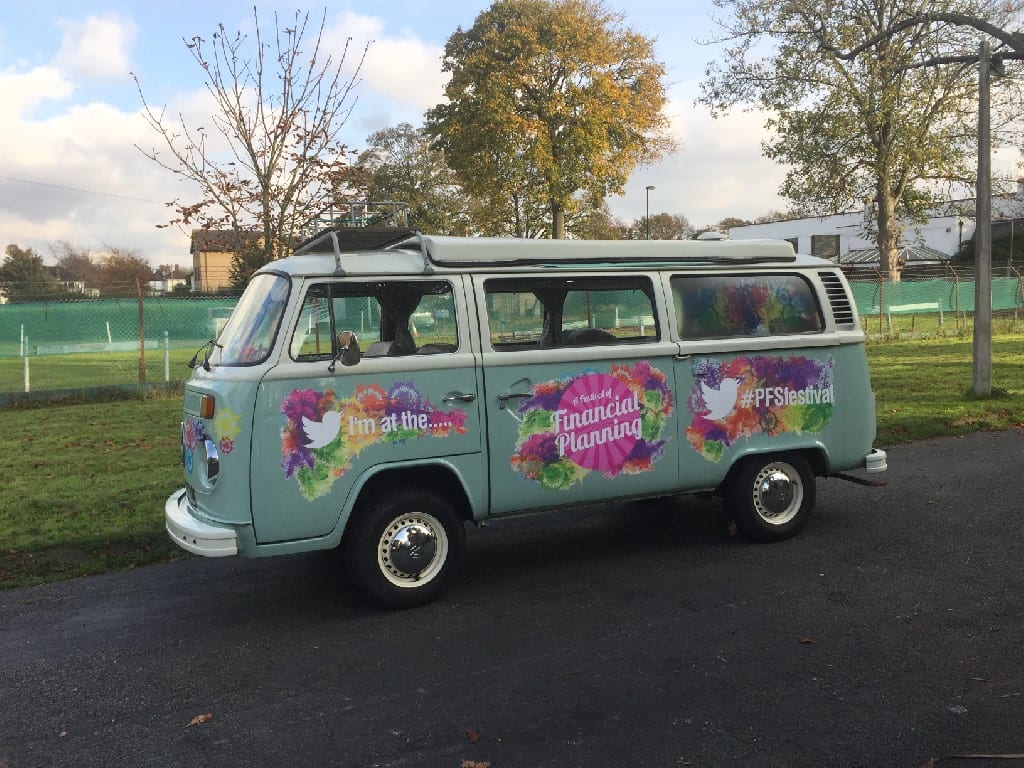 Low tack vinyl decals, applied to the pale blue paintwork of the campervan. 
 We used low tack vinyl decals for this project – a high impact and low budget alternative to our full vinyl wraps.
We provided our tried and tested artwork template and consulted on the design's compatibility with the campervan. We then produced and applied the graphics to c. 70% of the vehicle bodywork. The artwork did not have a solid outline, so all the graphics needed the edges weeding out by hand with a scapel.
Delivery and collection service
One of our experienced driver team delivered the camper to the Birmingham NEC and stayed at the Exhibition stand throughout the event. Our team encouraged people to have their photo taken with the campervan, and to post the pictures on their social social media using the event hashtag.
We were able to produce all the Health and Safety documentation for our client. The campervan was set up in line with the strict Health and Safety requirements.
On arrival, we included detailing such as wheel dressing, a full wax down, chrome and glass polish.
Scroll through the images below, to see the gallery
Some other case studies that may interest you