The #ImWithDorco Customised Wet Shave Bar Campervan Experiential Campaign
Our branded, fully laminate wrapped VW Camper goes on a promotional tour, customised as a wet shave bar, complete with barbers to promote Dorco razors…
Buttercup Bus VW Campers delivered a fully customised, retro VW Camper to use as a gentlemen's wet shave bar to promote Dorco razors as part of the #ImWithDorco Campervan experiential campaign. This branded, laminate wrapped campervan was supplied by us, complete with interior branding, specialist LED lighting, shelves to showcase products and hydraulic barber chairs upholstered in a colour scheme to match the brand.
The design specification was provided by top brand agency, N2O. We provided our tried and tested templates for the laminate wraps and interior. We also consulted with the agency on the interior design, to ensure that it was conducive to a shave experience.
We also supplied two high profile, professional barbers to deliver the shave experience.
Our driver team took the campervan on a two day, pre-planned tour of the London publishing houses, to include Hearst , Conde Nast and News UK. We then went on to provide logistics for a national tour across major shopping malls: The Westfield Centre, Manchester Trafford Centre and Birmingham Bullring.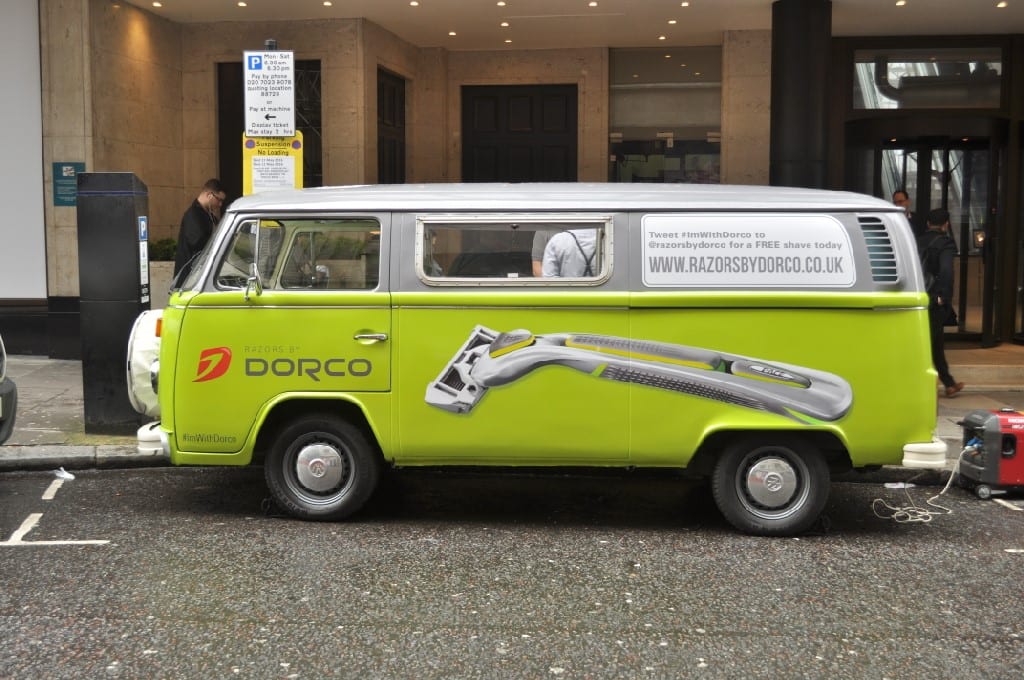 Laminate wrapped, branded VW Camper
We supply our template for camper artwork
We use client's artwork
Sample laminate prints signed off
We fully laminate wrap the camper
We plasti-dip the wheels grey by request
We supplied "show plate" license plates complete with logo and hashtags.
We provided bespoke internal branding templates for artwork
We produced and installed internal branded walls
We produced and installed branded internal roof
We produced and installed colour themed shelving units
We installed custom, remote controlled, colour changing LED lights
Branded barber wet shave bar built
We worked with a barber team to design a layout conducive to shaving
We sourced and insatalled hydraulic barber seats and stools
We installed tailored upholstery on the seats, complete with branding and logos
We upholstered matching door cards, and fitted carpet flooring in line with colour scheme
We developed a system where the drivers seat could be safely swapped for a barber chair on location
Brand ambassadors – the Barbers
We provided two fully qualified, high profile barbers
We ensured knowledge transfer across the Barbers following product training
We provided product feedback to the client
We included all the barber equipment, steamers, hot water, towels
We included waste water management
We provided sanitisation facilities
London tour of publishing houses
Our driver took the campervan on a pre-planed, two day London tour
We stopped at a series of publishing houses to showcase the brand and shave experience
National tour of major shopping malls
We took the campervan on a national tour of shopping malls
We visited London Westfield Centre, Manchester Trafford Centre and Birmingham Bullring
We set up and de-rigged as per stringent access rules
Full logistics service provided
We supplied an experienced logistics team
We supplied transporter services for long distance travel
We travelled through the night to meet a succession of events over a series of locations for the Campervan experiential campaign
We managed the team's hotel bookings
Our dedicated project manger provided all H&S documentation
We provided all required insurance information
We provided reports on request, to include vehicle tracking and product feedback
We reviewed client schedules and provided input based on the Barbers' experience
We provided training on the LED light units
Although it was a pretty difficult project to execute, Buttercup Bus delivered once again!
Some of our other case studies that may interest you…