Outdoor events venue hire with Fiesta Fields
Some outdoor events venue hire suppliers are just meant to work together…. rather like jelly and icecream… or glitter and festivals or Buttercup Bus Vintage Campers photobooths and Fiesta Fields outdoor events venues for hire. Every outdoor event needs a venue or outdoor space hire, before you can start dreaming of all the fun elements to add – and our friends at Fiesta Fields provide just that, be it an outdoor wedding, corporate event, special celebration, festival, hen and stag do or glamping party! 
Fiesta Fields is an outdoor wedding and events hire company
Fiesta Fields is an outdoor wedding and events company, representing a variety of beautiful outdoor venues dotted across Surrey, Sussex and Hampshire. They bring together idyllic, blank canvas venues with couples who want to celebrate in a way that's unique to them. Fiesta Fields venues are not limited to weddings and they have hosted many corporate events, special celebrations, private festivals, hen and stags and glamping parties too.
Blank canvas outdoor events venue hire
An al fresco celebration gives you the pure, unadulterated freedom to decide every aspect of your day. Yes, this flexibility does come with a few added stresses, but the Fiesta Fields team of experienced and creative coordinators are there to provide the help and support you need to achieve your dream – a wedding day that's just so you.
Their ten blank canvas venues offer between them lakes, rivers, woodland, twin oak ceremony trees, a rustic barn and even a walled garden. Some locations have expansive views and others offer a more intimate space. Each one is special in its own way and will always be yours exclusively, with time either side of your special day to set up and pack down. Camping/glamping is always included in their hire fee as this plays a big part in the outdoor wedding experience (ahem… and Buttercup Bus Classic Campervan rental services based in London could provide the perfect glamping sleepover solution!)
Your outdoor event, with your choice of suppliers
With Fiesta Fields you have full flexibility on your choice of suppliers. No fixed supplier lists to stick to. No corkage and no commissions charged to your suppliers. So if it is a campervan photobooth, a popup glitter bar, a specific photographer or caterer, you have the freedom to choose. Do check out our own Buttercup Bus Campervan and Beetle events services, as we could be the perfect supplier for your outdoor event!
Fiesta Fields host only a limited amount of events per year in each venue – so it is worth planning with plenty of time to secure your dream outdoor venue.
So whether your style is festival, boho or luxe… Whimsical, rustic or vintage, the Fiesta Fields team are standing by to make all your outdoor wedding dreams come true. Please visit their website to browse the fantastic selection of outdoor venues for hire and they look forward to showing you around.
Outdoor events venue hire, related suppliers
These stunning open spaces lend themselves to an event under canvas – such as a stunning giant hat tipi in cream canvas from Canvas and Light. (More on that in a later post!)
Let's not forget our own classic campervan hire services, which lend themselves perfectly to an outdoor event in SUrrey or Sussex – be that a campervan holiday hire for glaming, a campervan photobooth or our new campervan and beetle popup glitter bars.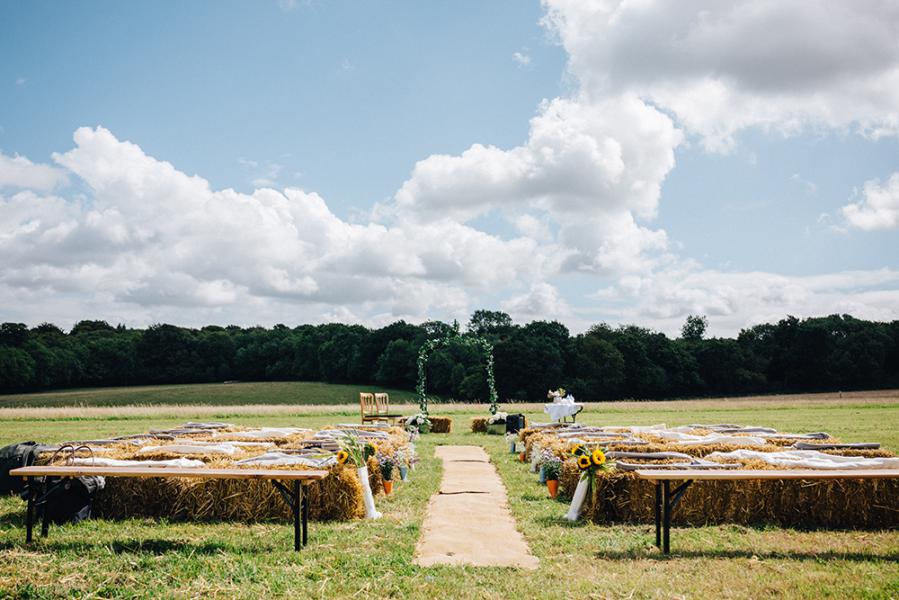 Fiesta Fields and suppliers that made this blog post possible
Thank you to Fiesta Fields, for the stunning images and guest post.
Their details are as follows:
Website http://fiestafields.co.uk
Phone 07539 880031
Email nikki@fiestafields.co.uk
Instagram @fiesta.fields
Facebook /fiestafields
Image credits
The images featured in this post are actual venues available with Fiesta Fields.
In order of display, the photographer credits are as follows:
Main feature image: abigailwhite.co.uk
1st main body image: stuarthowatphotography.com
2nd main body image: maureendupreez.com
3rd main body image: gingersnaps-photography.com
4th main body image: Aitne photography
5th main body image: jamiedunnphotography.com
6th main body image: chrisbradshaw.co
7th main body image: jamiri photography
About the author
Nathalie
I'm Nathalie, a mother with two little ones who love going out in the campers – be it a trip to the supermarket, or a holiday by the coast! My experience is pretty mixed… I studied to become an anatomist, wore a white coat and was a bit nifty with a scalpel when it came to dissections… but somehow ended up working for a software company and then specialised as a business consultant (for 15 years), gaining useful skills to set up my own company
Buttercup Bus Vintage Campers
… I love to eat cheese – the smellier and mouldier the better… hate ironing, have a handbag filled with lipstick and spanners… and I have a passion for all things VW…
See previous blog posts below.