Campervan & Beetle Gift Shop
All ITEMS GIFT WRAPPED
Gift items with a classic campervan and beetle hire theme. Includes some VW certified stock.
Purchase gift vouchers to hire a classic campervan for your festival or camping trip
Check out our range of VW campervan and VW Beetle events hire services
A collection of pretty, classic VWs
Based in Croydon, on the South London and Surrey border.
Campervan Holiday Hire Gift Vouchers
Available in denominations of £50
Campervan event hire services
We are a classic campervan and VW beetle hire comapny, based in Croydon, on the South London and Surrey border. Along with our online campervan gift shop, we also provide a range of services with our fleet of classic campervans and VW Beetle.  Check out our classic campervan hire services, operating in a 40 mile radus from our base.
Our classic camper event hire services
Camper photobooths, wedding cars, glitter bars and more,
Campervan events specialists
Based in Croydon
Personalised bunting to buy 
A perfect addition for your campervan event or holiday hire
Campervan photobooths services
We have a fleet of pretty campervan photobooths to hire across Surrey, London, Sussex and Kent
Hire today
Latest gift shop blog post
Bumble dating app hits the news and Bumble the wedding campervan This week, female founded dating app (called Bumble) hit the news, as it went public, valued at over £13bn after listing shares. This...
read more
Check out our range of services below. We do all sorts of fun campervan and beetle hire events!
Scroll through our other services!
Our campervan glitter popup bars, beetle glitter bug and campervan photobooths also make for great entertainment at weddings… along with our campervan self-drive honeymoons or elopements. Check out the gallery below for more info – and contact us to discuss multi-service packages to complement your campervan of beetle wedding car hire.
Branded campervan hire
Perfect for your promotional event
We offer a range of branded campervan services with either ful vinyl wraps or low tack vinyl decals. We also have a campervan that converts into a poptop bar with serving counter.
Classic campervan holidays
The perfect self-drive adventure
We have a choice of RHD 1970s classic VW Campers for you to self-drive for a camping holiday with added retro charm. Includes a gas hob and whistling kettle & kitchenware for the perfect picnics.
Campervan and beetle wedding transport
Choice of pretty pastel coloured wedding cars
Our wedding car services come with one of our fab drivers, flower garland decor and wooden "Just Married" sign. We have a collection of pretty, cream and pastel coloured campervans and a soft top  beetle to choose from.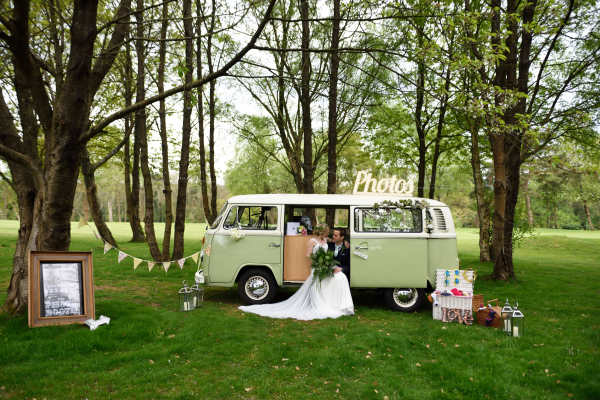 Campervan Photobooth Hire
A photobooth inside a classic campervan
Offering a choice of classic campervan photobooths to hire in a range of pretty pastel colours – complete with instant prints, props, oilne gallery and decor. This photobooth will be talked about for months after your event!
Popup campervan glitter bar services
Popup campervan glitter bar services
Our new campervan popup glitter bar services – built on the theme of a campervan front fave – ideal for indoor or outdoor events – glitter makeup artist, decor and mirror photobooth with instant prints –  why not hire it in combination with the peepboard? 
Glitter bug beetle glitter bar and photobooth
Popup glitter bar and photobooth in a VW Beetle
Our new VW beetle popup glitter bar and photobooth – Introducing "Glitter Bug" – complete with glitter artist, sparkles, eco glitter, props, photobooth and fabulous decor.
Campervan glitter bar boot hatch service
Upgrade your camper photobooth with this add-on
We can add a glitter bar service, operating from the rear of your campervan photobooth – where you can get "sparkled up" and then hop into the campervan photobooth for pictures!
Campervan peep board
Glitter popup bar or photobooth bolt-on service
Our specially made, wooden campervan peep board is the perfect bolt-on service to add to your campervan photobooth or perhaps our glitter bars. Set up on heavy duty cast iron stand – a fun addition!
(Not avaliable with the beetle glitter bar as won't fit in! Ha!)
We are here, and happy to help – do get in touch about any campervan gifts, and we will get right back to you!