Our little basket of essentials
Our campervan photobooths will come with a beautifully presented hamper, containing tissues, anti-bacterial hand wash. anti-bacterial wipes and a little recyclable waste bag, to tidy any rubbish or tissues away.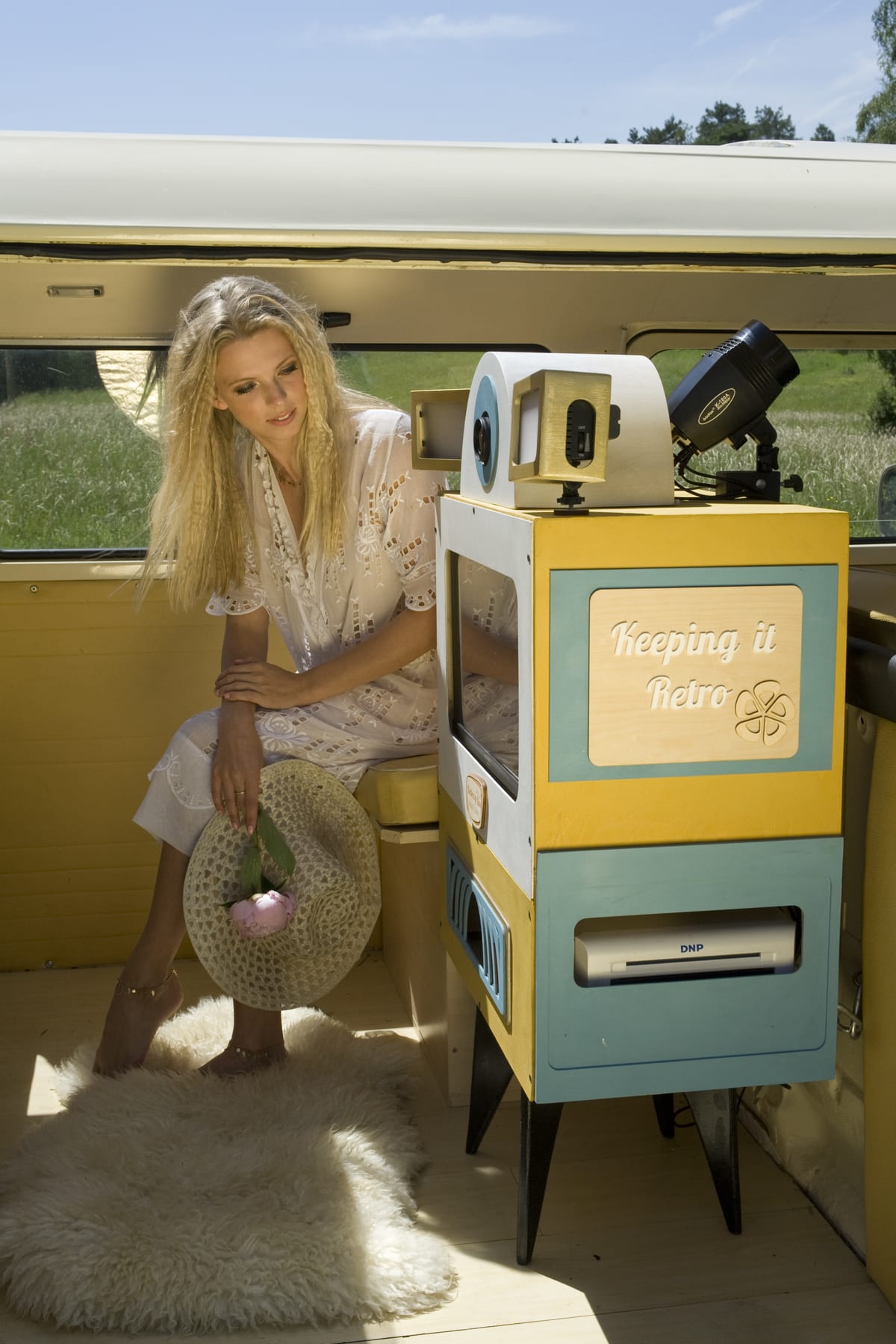 Surrey photobooth response to the coronavirus
The media is full of information about COVID-19, a new illness that can affect your lungs and airways. It's caused by a virus called coronavirus – and you can read more about it on the NHS website here and the Government webiste here  
In response to the NHS guidelines, the ButtercupBus Vintage Campers Surrey campervan photobooth response to the coronavirus, looking at their training, preparation, technical and operational management. 
Inside the campervan photobooth
The photobooth unit houses a touch screen for the live preview and operation of the booth by the user.
Part of the campervan photobooth response to the coronavirus is for our event staff to keep the screen clean with the anti-bacterial wipes that will come as part of our standard kit.
Box of props and new digital prop options to suit photobooth user preferences
The campervan photobooth comes with a variety of props, typically including hats, masks, glasses, moustache and lip sticks, flower garlands and various signs.
Whilst these will be cleaned before the event, we understand that some users may prefer to use the booth without props.
To maximise the fun for everyone using the photobooth, we have upgraded our systems to include a digital props feature. This allows users to enhance their photos with a selection of digital overlay graphics to include lips, moustaches, hats and various signs. These are entirely optional and can be added by the users via the photobooth touch screen.
Cleaning and preparing your campervan photobooth in response to the coronavirus
We always take time to specially prepare your campervan photobooth for your event.
In addition to the standard external cleaning, polishing, application of decor – and indeed the internal vacuum clean, we will also:
use anti-bacterial sprays and cleaners for the floors and surfaces
ensure that we pay extra care to clean the door handles, window winders, steering wheel, gear stick and brake leavers.
Staff training on coronavirus and photobooths
We have a large pool of staff, to ensure contingencies against anyone needing to take sick-leave. Any staff feeling unwell will not be allocated to a booking, on the day.
Our lovely team will all receive comminications on best practice and will be supplied with a discrete set of antibacterial hand gel, sanitising kit, tissues and disposal bags. They will know to:
cover your mouth and nose with a tissue  (not your hands) when you cough or sneeze
put used tissues in the bin immediately
wash your hands with soap and water often – use hand sanitiser gel if soap and water are not available
do not touch your eyes, nose or mouth if your hands are not clean
try to avoid close contact with people who are unwell
Our digital props offer an alternative to our standard basket of props
For those guests that prefer not to make use of the standard basket of props, we will also have the option via the campervan photobooth touch screen to select digital props. Users can scroll through a selection of images to overlay their photobooth pictures. We have a variety of lips, moustaches, hats, glasses, text and badges to apply, if desired.
We will continue to review our services
We will continue to monitor the situation, and review our mitigating actions, in line with guidance from from the Government's COVID-19: guidance for employers and businesses.
Should you have any worries or concerns, do not hesitate to contact us to discuss.
Photo credits for this article with thanks, using our own vehicles and kit:
Photography / @theenlightproject / @desireeanorth / Amanda Duncan Photography
About the author
Nathalie
I'm Nathalie, a mother with two little ones who love going out in the campers – be it a trip to the supermarket, or a holiday by the coast! My experience is pretty mixed… I studied to become an anatomist, wore a white coat and was a bit nifty with a scalpel when it came to dissections… but somehow ended up working for a software company and then specialised as a business consultant (for 15 years), gaining useful skills to set up my own company Buttercup Bus Vintage Campers… I love to eat cheese – the smellier and mouldier the better… hate ironing, have a handbag filled with lipstick and spanners… and I have a passion for all things VW…