Saturday 25th May, meet our Campervan Photobooth in Woking.
On Saturday 25th May 2019, we will be set up with our very own "Little Miss Sunshine" branded, classic VW Campervan Photobooth in Woking at the Peacock shopping centre from 10am to 5pm.
We would love to meet you there, where you can learn more about this amazing theatre production, taking place at the New Victoria Theatre in Woking from 25th to 29th June 2019.
We are also offering the chance to hop into our classic 1976 "Little Miss Sunshine" VW Camper photobooth, with a choice of funny props, and you can take away your free instant print as a little reminder of the upcoming production!
The Little Miss Sunshine Theatre Production
This fabulousy fun theatre production is a new musical comedy, based on the iconic, Oscar-winning film, Little Miss Sunshine – which is one of my all time favourite movies (of course – as it features a campervan!) – so you can imagine how excited we were to be booked in to promote this production.
The musical is running from 25th to 29th June 2019 at the New Victoria Theatre in Woking, as part of this summer's tour.
The story is about the quirky Hoover family, overcoming a few challenges in life. They embark on an adventure in a classic, yellow VW Campervan, on an 800 -mile road trip from  New Mexico to California, where the seven year old daughter, Olive, has high hopes of winning the Little Miss Sunshine beauty contest.  We learn about the challenges the family members all face, and grow to love their characters as we follow their journey to the beauty contest (in a campervan that is just a smidge less reliable than our own faithful, four wheeled friend).
The conclusion to the contest is highly entertaining, hilarious and heart warming.
Come and find us on 25th May in Woking
Peacocks Shopping Centre
Victoria Way
Woking
GU21 6GH
Can you spot the campervan?
See the official trailer for the movie on which the musical production is based – can you spot the campervan?
Campervan photobooth hire.
We have a fleet of 6 classic campervans which can be hired as a campervan photobooth for promotional events. They come in a range of pretty pastel colours, and we can apply branding on them. Contact us today, to see how we can promote your event!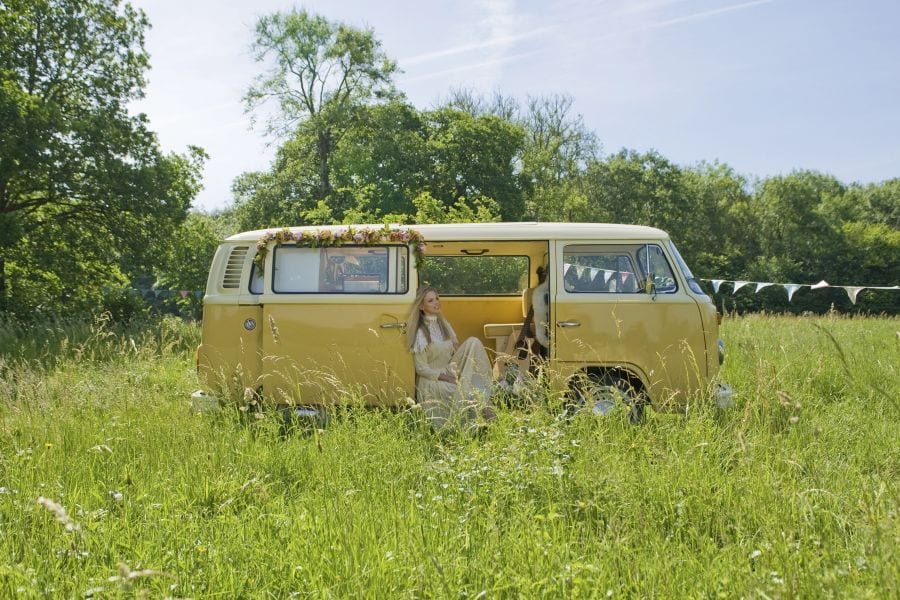 About the author
Nathalie
I'm Nathalie, a mother with two little ones who love going out in the campers – be it a trip to the supermarket, or a holiday by the coast! My experience is pretty mixed… I studied to become an anatomist, wore a white coat and was a bit nifty with a scalpel when it came to dissections… but somehow ended up working for a software company and then specialised as a business consultant (for 15 years), gaining useful skills to set up my own company
Buttercup Bus Vintage Campers
… I love to eat cheese – the smellier and mouldier the better… hate ironing, have a handbag filled with lipstick and spanners… and I have a passion for all things VW…