Campervan outdoor photobooth Surrey hire
Buttercup Bus VW Campers are thrilled to be preferred suppliers at Coltsford Mill – a stunning barn wedding venue in Surrey. We were invited to their wedding open day to showcase our campervan outdoor photobooth Surrey hire services – and it was a huge success!
On this particular occasion, we teamed up with the amazing Alice St Rose, a super talented photographer who captured Pushka the cream campervan in full photobooth mode. The setting could not have been more perfect – we had beautiful blue skies, luscious autumn sunlight and a picture postcard backdrop of the countryside, and lakeside setting.
Our VW camper photobooths
We have a fleet of six, pretty pastel coloured campervan photobooths and operate across 40 miles from Croydon, on the south London, Surrey and Kent border. Our VW Camper photobooths are perfect for outdoor events (we love a good barn wedding, tipi event or festival wedding!) Our campervan photobooths include a hamper basket filled with props, touch screen with live preview, instant, personalised prints, online gallery where guests can download free images and huge LED light up "photos" sign on the campervan roof.
About the photographer
We are so chuffed with the photos that Alice has taken – one of my favourite features is the sunflare that she has captured so perfectly!
Alice graduated with a BA in Digital photography HONS back in 2011, and since then has worked in a family portrait studio mainly photographing babies. She has also been assisting in studios and on collaborations. Along the way Alice has done a few freelance head shots for actors and dancers (and if you check out her website, you will see that she is rather good at this!).
Alice is hoping to do more freelance work with her photography and is in the process of updating her site with new content. She came along to support us, in  order to find out how we set up our campervan photobooths. We were thrilled to have her on side.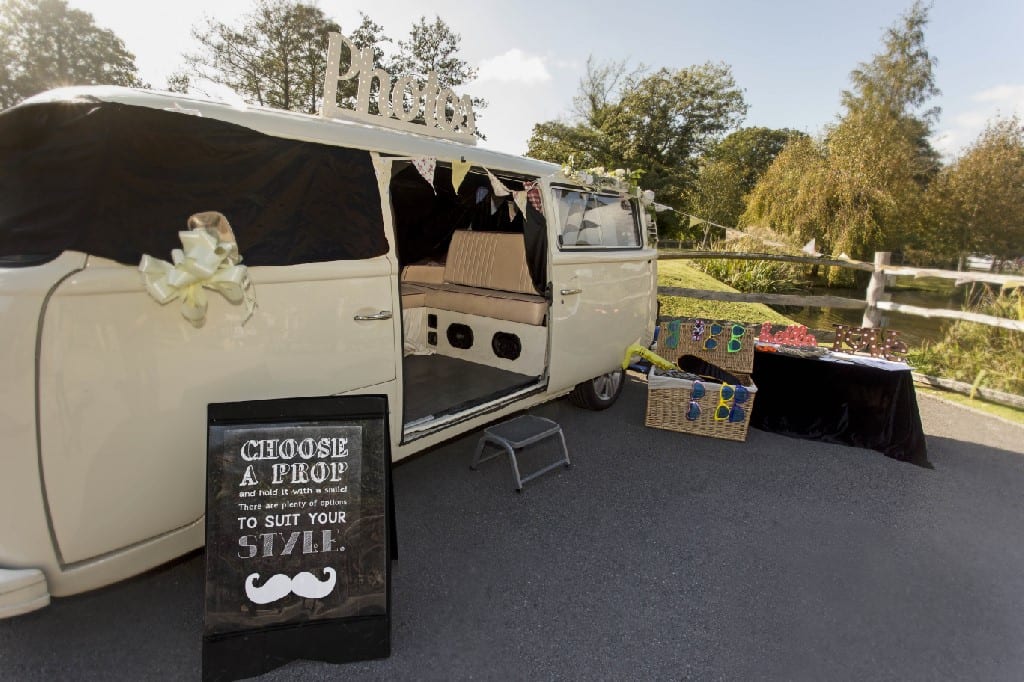 About Coltsford Mill In Surrey
Coltsford Mill is conveniently located only 15 miles from London and 3 miles from the M25. It is set in 12 acres of stunning grounds, complete with two lakes. It can hold 150 guests for dining and up to 200 guests for the evening reception. The venue is licensed for civil wedding and partnership ceremonies for up to 90 guests.
address: Mill Lane, Oxted, Surrey, RH8 9DG
phone: 01883 716354.
web: www.coltsfordmill-weddings.co.uk/