Our retro VW Camper visits The Red Barn for a wedding in Surrey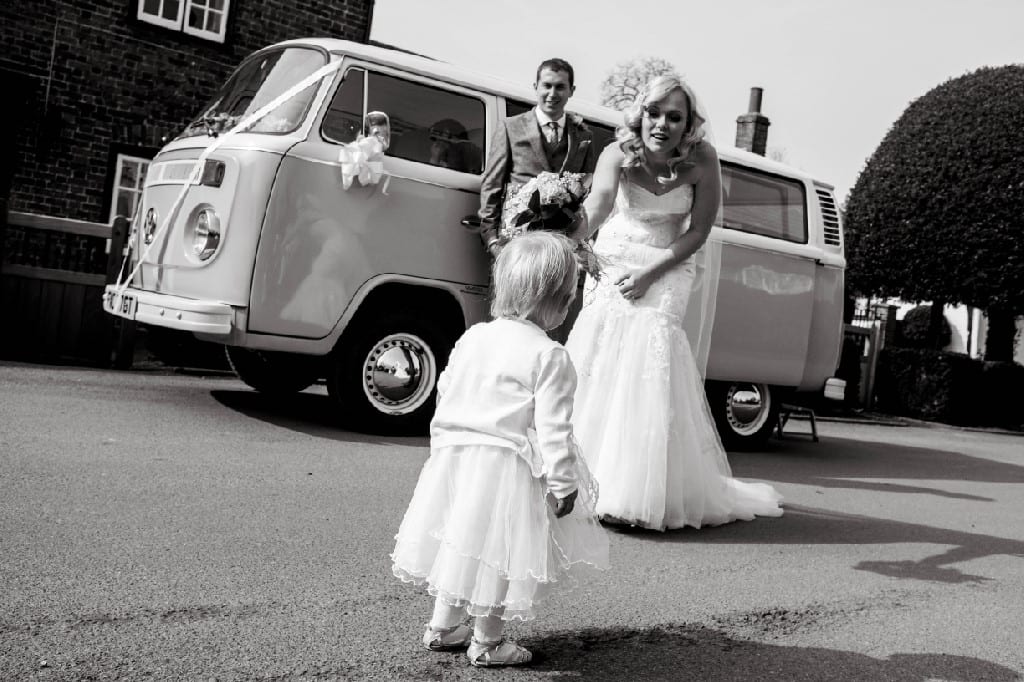 We were thrilled to have been booked with our retro VW Camper Surrey wedding car services for Graham and Michelle's wedding this month. Basil, our pastel green and cream wedding campervan was on pootling duty along with our driver, Mike.
The campervan was dressed with cream, hand tied bows and florist ribbons, cushions, wooden, hand painted  "Just Married" sign and we also decorated the interior with our personalised bunting, printed with a personal message from the Groom.
On arrival, it was lovely to hear Michelle's story about how she used to own a retro VW Beetle – part of the family!!! This made us understand that not only was Basil a lovely form of wedding transport, but as is often the case, there was a history and love of these vehicles.
Our final destination for the wedding reception was The Red Barn in Surrey, near Lingfield – a beautiful 300 year old barn, complete with function rooms, outside grounds and lots of rustic charm – We have been to this venue quite a few times both as a wedding car supplier and indeed with our outdoor photobooth hire, set up inside our campervans – our VW Campers feel quite at home there!
The beautiful black and white photos that we are sharing with you today were sent to us by the lovely Joseph. Thank you Joseph for letting us share these.
I have also posted a couple of our own pictures in colour that we took on the day, so that you can see what colour Basil Bus is. He is one of our fleet of six VW campers and Beetles. Buttercup Bus VW Campers have them available in a range of pretty pastel colours and classic cream.