With a dramatic and enchanting entrance like this, who could not hold back their curiosity to see what lies behind the rustic doors, framed by patinered walls. The Asylum has got to be one of the most mesmerising, quirky London wedding venues that I have ever come across.
The faded, turquoise plaster, partly covering the aged brickwork, has a thousand tales to tell.
I understand that, this building was founded in 1827, previously a Chapel of a group of almshouses for retired pub landlords, set in the beautiful Caroline Gardens in Peckham, South London.
During World War II, it was bombed, and  the loss of the roof, and the elements it was exposed to, have all contributed to the unique character. Amazingly the stained windows have survived. The roof was restored, but the remaining building appears to be "frozen in time", now used as an artists space, and venue for events – to include weddings.
Our cream VW camper wedding car was booked for this London venue last week, and when having a nosey around the venue, we came across the wedding cake …. this was no ordinary wedding cake – it had a VW Camper cake topper on the top, sporting the same purple ribbons that our own VW Camper was wearing outside the venue. Such attention to detail!!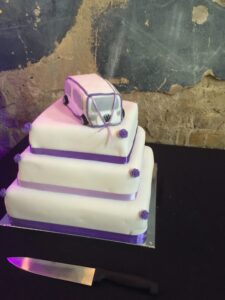 We would like to congratulate Laura and Jack on their wedding day – and also thank them for booking our VW Camper wedding car services and also introducing us to this amazing venue. I hope that we get the opportunity to work there again soon!
You can find out more about The Asylum here: https://asylumweddings.wordpress.com/