Self Drive  VW Camper Promo Hire in a branded campervan?
Certainly something to capture the imagination – if you're a business and you want to make a visual impact while covering as much distance as possible, what could be better than hiring a retro VW Camper Van and driving around London, Surrey, Kent, or further if you wanted, and having your brand on wheels?
Laminate wrapping our corporate classic Campervan in your business colours or logo can be done in a matter of days, from start to finish, and you can then hit the road, showing towns and cities something a bit different from the norm.
We've had some fantastic clients in the past, our most recent corporate promotional hire was for a collaboration of well-known brands, Brabantia and Oral Kiely – with our retro VW Camper driving round the centre of London and spending some time parked up next to London Bridge – and they caught some serious attention! We visited various press offices and had a van full of goodies to deliver!
The camper vans provide plenty of room for stock of any promotional products, even boxes of flyers to hand out on your journey. It really can be a moving, eye catching advert for your brand, something we're very proud of.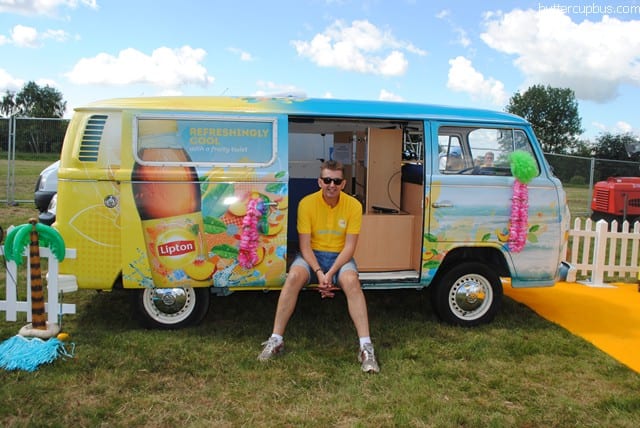 In this digital age people want more and more from their adverts, they want something to grab their attention and stick in their memory, and we've all come to expect the unexpected, which can make it hard to impress. But doing something a little bit old school but super cool, will highlight your company as one who wants to stand out from the crowd and be individual. Everyone knows VW Campers are cool, even non-retro fans love them, they are literally, the perfect partner for promotional events and brand activation!
To find out more about Buttercup Bus VW Camper Promotional Hire services, check out our website at https://buttercupbus.com/event-hire/
We are based in South London but cover the whole country!