Top Romantic Surrey view points to visit in a campervan
Here are our top five favourite view points across Surrey, all within an hour's drive of the Buttercup Bus classic campervan rental base in Croydon:
Surrey countryside view points
Are you racking your brains to find something suitably romantic to do for Valentines? Keen to avoid staring at the cinema screen in silence or forcing conversation at an over-crowded restaurant?
Why not really surprise that someone special with a trip to the beautiful Surrey countryside, where you can go for a walk and take in some incredible views…  See below our top romantic Surrey view points – and if you really want to make a lasting impression drive them there in a hired vintage campervan! You could bring a beautiful picnic packed with your favourite treats, park up near the stunning view points and get the kettle on.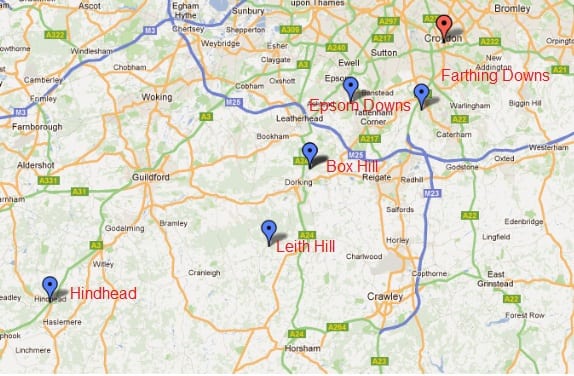 1. Leith Hill
This is a stunning Surrey view point, and at 293 metres, boasts being the highest point in the south east of England. On a clear day, it is possible to see 13 counties, the Channel and views of the London skyline. There is an 18th Century Gothic Tower located at the top of Leith Hill open for viewing. Located just a few miles south of Dorking in Surrey, this gem of a location is under 1 hours drive from Croydon. (The header picture on this blog post was taken by us from this view point).
2. Box Hill
Box Hill is one of the best known landmarks in the South of England – and with it being on the route of the 2012 summer Olympics cycling road race, this beautiful area will be very popular with visitors over the summer.
The highest point is Betchworth Clumps at 224 m. Many people, however, choose to stop at Salomons Memorial, where there is a fantastic viewpoint overlooking the town of Dorking. The National Trust visitors' centre provides both a cafeteria and gift shop.
Only 35 minutes from Croydon, this is a wonderful place to visit on a day trip… and for those feeling hungry after a long walk, there is a Smith and Western restaurant located at the top!
Address: Surrey Hills, Box Hill and Headley Heath, The Old Fort, Box Hill Road, Box Hill, Tadworth, Surrey, KT20 7LB
3. Epsom Downs
The best Surrey view points are from where the Epsom Golf Course and Epsom Racecourse meet by Grand Stand Road. Panoramic views across west London can be seen. The free car park on Grand Stand Road looks out across the view.
Only 25 minutes drive from Croydon, this is a nice, local place to visit. There is also a lovely pub called The Derby Arms, which serves delicious food if you are looking for a pit stop!
Address: Grand Stand Rd, Surrey KT18 5
4. Farthing Downs
Farthing Downs provides views of London's skyline. On a clear day you can easily pick out the Gherkin, canary wharf and several other landmarks.
The view points are surrounded by Downland and wild flowers, with specialist breeds of cattle grazing freely.
There are picnic tables overlooking the views, or for those looking for a pub lunch, The Fox provides a welcoming open fire and good menu.
This is on Croydon's doorstep, being just 12 minutes drive away.
Address: Farthing Down Common, Downs Road / Chaldon Way, Coulsdon, CR5 1DE
5. Hindhead
Known as the gateway to the Surrey Hills, this area of open heathland is classified an Area of Outstanding Natural Beauty, with views of the Devil's Punch Bowl from a view point 50 yards from the National Trust café. Highcombe Edge is just ½ a mile away and also offers great views.
Address: London Road, Hindhead, GU26 6AB
Hire a classic campervan
So, if you are looking to do something a little different this year – take a trip to one of these beautiful viewpoints in one of our  classic campervans for hire in Croydon, Surrey, and sit back and enjoy the view from that big bay window – perhaps with a nice cup of team, fresh from the kettle that comes with the integrated gas hob abd camping gas!
About the author
Nathalie
I'm Nathalie, a mother with two little ones who love going out in the campers – be it a trip to the supermarket, or a holiday by the coast! My experience is pretty mixed… I studied to become an anatomist, wore a white coat and was a bit nifty with a scalpel when it came to dissections… but somehow ended up working for a software company and then specialised as a business consultant (for 15 years), gaining useful skills to set up my own company
Buttercup Bus Vintage Campers
… I love to eat cheese – the smellier and mouldier the better… hate ironing, have a handbag filled with lipstick and spanners… and I have a passion for all things VW…